At Furniture Source International, we turn classically inspired design ideas into high quality, distinctive furniture pieces and accessories. Working alongside highly skilled craftsmen in the artisanal provinces of Central Mexico, it is our shared passion to create bench made, lasting furniture pieces. With respect to the time-honored craft of traditional furniture making, we use natural, honest materials: solid antique and reclaimed hardwoods, hand forged iron hardware, hand hammered copper and thick travertine to name a few. Unrivaled in craftsmanship, FSI offers furniture pieces that satisfy in style, value, and eco-responsibility.
Since our inception in 1998, FSI has been a trusted manufacturing resource for retailers' nationwide, offering true factory direct pricing. Our mission is to:
Bring quality and interest back to the furniture market

Offer sustainable, eco-friendly furniture options

Create pieces that are handmade of solid materials

Break up the monotonous, unfortunate trend of assembly line, particle board matching furniture sets
At FSI, we believe there is no better way to enrich the home, but through green initiatives. After all, the green economy is no longer a trend; it's a reality in nearly all facets of our life.
We not only assemble our growing collection of sustainably made furniture with antique pine and reclaimed topical hard woods, but we give salvaged stairwell banisters, farmhouse floors, century old shutters and doors from torn down haciendas a new life in a solid piece of furniture. This way, each piece of our sustainably made furniture maintains a unique paint history and the marks of time, adding character and depth to the home and meeting the needs for style, value and eco-responsibility for the retailers and consumers. In turn, every single piece of our furniture has a story. It gives the consumer a reason to buy.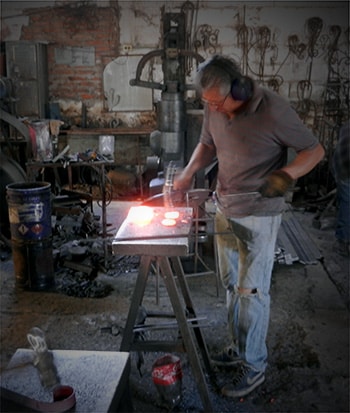 Over 20 years ago, Furniture Source International Retail Store began as a means to sell furniture market samples made by FSI's factories following a successful wholesale furniture market in North Carolina. Trey Baumgarner launched a furniture wholesale and manufacturing business shortly after the Baumgarners moved to Bryan/ College Station in 1997, where his wife, Melissa's, family had lived for generations. Having worked in the furniture industry since the 1970's, Trey Baumgarner successfully manufactured, then sold his wholesale furniture samples after which he would ship them to B/CS, landing at the former Wellborn Grocery and Feed store that they purchased from Melissa's stepfather and longtime Wellborn resident, Grover Walker.
Trey and Melissa commenced renovations on the building and began selling, starting with market samples but soon ordering more of their own product for the store as well as acquiring complimentary furniture and accents from all over the world. Over the years, the store expanded its size, offering and customer base, becoming today what is a popular state-wide, regional and local retail destination for home furniture and accessory shopping. Some things never change: Melissa and Trey still send many of their wholesale market samples to the store.