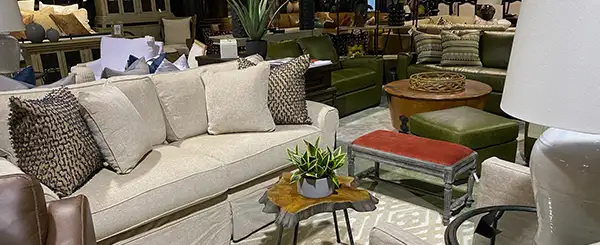 How to Maximize Space with Multifunctional Furniture Pieces
Do you have big decorating dreams, but a small space to work with? No matter the square footage of your home, chances are good that you'll run into an awkwardly shaped room or ill-placed wall at some point in your furniture-arranging efforts. But you don't have to sacrifice style or comfort to accommodate spatial challenges – we'll explore how to maximize space with multifunctional furniture pieces to make your living spaces aesthetically pleasing and functional.
What is Multifunctional Furniture?
Multifunctional furniture are pieces that serve more than one purpose in your home. Decorative storage pieces, folding beds, and convertible tables are just some types of multifunctional furniture that can bring charm and extra floor space to your home. Here are our favorite options for pieces that offer instant solutions to common constraints.
Sofa Beds
Beds that hide away under the cover of couches and oversized chairs are excellent options for families or homes that entertain overnight guests. An easy, comfortable bed for sleepovers, movie nights, or guests — a sofa bed can pull double-duty as an instant guest bedroom. Sleeper sofas come in almost any fabric or pattern, and have mattress options in every size.
Expandable Dining Tables
Dining tables with leaves have been around for a while, but the way the inserts are stored when they aren't in use has come a long way in recent years. Now, dining tables are available with leaves that fold, rotate, or drop to integrate into the table itself to further enhance their space-saving design. Combine expanding dining tables with complementing folding dining chairs to entertain a crowd with ease.
Wall Beds
Wall beds or "Murphy beds" are types of mattresses on a frame that lower and lift up into a mount on the wall that resembles a cabinet, armoire, or other built-in feature. Their "dormant" appearance can easily be customized to fit the aesthetics of a home, with mattress sizes available from twin to king. These types of beds are perfect for multipurpose rooms such as home gyms, guest rooms, or children's bedrooms to offer extra floor space.
Nesting Coffee and Accent Tables
Nesting tables are perfect for small living rooms. They stack over each other seamlessly, neatly tucking themselves away when not in use. Or, for a decorative spin, try pulling out sections of the smaller tables for a multi-level look — perfect for displaying photos, plants, or other accents.
Convertible Desks
Similar to a wall bed, convertible desks fold into a frame mounted to the wall that resembles bookshelves or cabinets. The surface and support arm fold down to create an instant work surface, which can be neatly folded away when not in use. These desks are perfect for small nooks, home office spaces in bedrooms, or craft rooms.
Storage Ottomans
Store toys, blankets, or other family room essentials inside of your favorite footrest with storage ottomans. Choose from a variety of fabrics, patterns, colors, sizes, and styles that tie in with your other furniture. And, storage ottomans on casters can be moved with ease to accommodate several seating areas.
Bunk Beds or Loft Beds with Storage
Elevated beds can offer creative storage spaces. Bunk beds with built-in bookshelves, or drawers for storage make practical use of their vertical reach. Loft beds are similar to bunk beds, but instead of a bottom mattress, they utilize the space below the sleeping area as a desk, play area, or storage.
Bringing It All Home
At Furniture Source International, we understand the need to choose furniture that's both practical and comfortable for your family, while being mindful of the spatial constraints of your home. Contact us to discuss the possibilities that multifunctional furniture has to offer — no matter the size of your home.
Share This Story, Choose Your Platform!