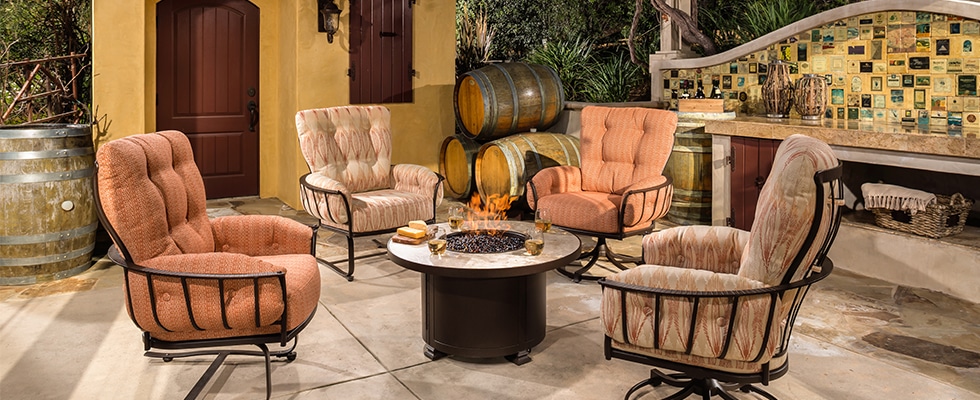 10 Tips for Outdoor Entertaining
Our homes are not limited to the four walls and ceiling that makes up the structure of the house. Instead, our homes extend to the outside, to our patios, porches, yards, and lawn beyond. Gathering with friends, family, and loved ones in that outdoor space can be a wonderful way to spend the days and evenings ahead. Furniture Source International has tips to make your outdoor entertaining even better.
1. Prepare your space. Taking the time to mow your lawn, clean up debris, and tuck away any tools, old toys, or extra items automatically sets the mood for a relaxing time. Seeing your yard clean and tidy will help you and your guests feel ready for a good time ahead. Don't forget to take a few minutes to tidy up the common areas inside and to check out your guest bathroom, just in case.
2. Decorate. Regardless of your gardening green thumb, don't forget to decorate your tables or other pieces of furniture on your porch or patio. Fresh cuttings from your lawn or flowers from the store can add an extra touch to your tabletop, especially when displayed in a vase, bowl, or other vessel from Furniture Source International. Adding a few outdoor throw pillows can offer a pop of color and some extra comfort for sitting. Outdoor pottery for accent plants provides extra interest and color to your patio as well.
3. Consider food choices. While you may not want to make an entirely different meal for everyone at your table, you do want to consider people's overall tastes and preferences. By having a few choices that many people like, you can guarantee a more enjoyable evening. Our showroom floor has the perfect dishes to serve every item on, whether it's a simple snack or an elaborate buffet.
4. Outdoor lighting. If you want people to linger, you will want to provide them with a little lighting to see. The patio lights usually installed on the outside of home can be harsh. Instead, pair warm lighting from exterior light sets with some of our hand poured candles. Another great source of light and warmth is a fire pit, which we have a number to choose from. Some of our patio umbrellas even have lighting built in as an extra feature.
5. Unwanted guests. Living in this part of the country, there are plenty of bugs and pests that try to ruin our time in the great outdoors. If your guests don't want to lather up or spray down some bug repellant, you can put out torches and other citronella-based candles to keep the bugs at bay.
6. Seating and dining. If you are entertaining on a regular basis, you should invest in the seating your company will need to be comfortable and to enjoy the time together. With multiple options on our showroom floor, you can pick lounge chairs, swivel armchairs, or full dining sets that will meet your needs.
7. Easy clean up. This applies to both before and after your entertaining happens. While you may need to take care of your lawn, you don't want to be stuck scrubbing down furniture to make it presentable. Many of the choices we carry for chairs and dining are anti-microbial or are easily cleaned so you can spend more time focusing on fun parts of getting ready.
8. Don't forget the beverages. Having a fun drink is just as important as having delicious food. Pairing a meal with the Puro Verde Organic tequila we carry can freshen and dress up your evening. For those who may not partake, you will still want plenty of ice and nice glasses for their beverage, which means checking out our bar ware and other accessories.
9. Something to do. If you are having friends or family with children over, consider having a few games or activities for them to play. You may also want a card game or something similar even if there aren't kids. For larger parties where people may not know each other as well, having a few topics of conversation at hand to help people mingle is never a bad idea.
10. Don't forget to relax. You have worked hard to get your space ready and it's time for you to enjoy the evening, too. Grab a seat and a drink and mingle with the guests you've invited to spend time with you. You deserve it!
To prepare your outdoor space for entertaining, from new patio furniture to bar accessories to hand poured candles, come see us today. Our team at Furniture Source International can point you in the right direction to get you entertaining ready in no time.
Share This Story, Choose Your Platform!