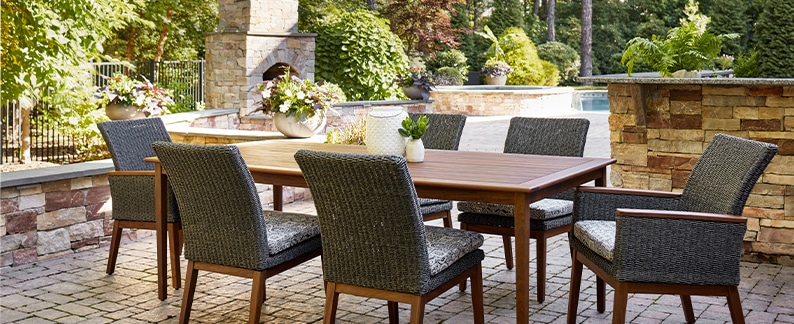 Backyard BBQ Essentials
While the blistering heat certainly puts a damper on our spirits, we cannot argue with the fact that it also seems to slow us all down. This slower change of pace is one of the best parts of summer, when long weekends spent outside with immediate family, or a gathering of friends becomes a priority on our calendar. Along with loved ones coming over comes a few essentials you may need. Furniture Source International has you covered for some of the items needed to make your next backyard BBQ a hit.
Seating Options
The thought of standing for hours at a BBQ isn't ideal for anyone and most BBQs are designed to be enjoyed for a substantial amount of time. Ensuring you have enough seating, and comfortable seating at that, is essential to your BBQ being a success. Ideally, with a full BBQ, you would want to consider tables and chairs for everyone to gather around as they enjoy your special recipes made just for them. At the very least, have a table with chairs and a few additional chairs or lounging options for people to nestle in while they enjoy the fruits of your hard work. We have many options for seating, of all types, to consider.
Food and Drink
No BBQ is complete without food and beverage to enjoy. Beyond typical BBQ fare like meats and salads, you may want to consider appetizers that are simple to prepare and enjoy. Having several different types of bruschetta with toppings and tapenades is perfect. This could pair well with grilled veggies, too. Beverages should be chilled and generously poured. Consider a large pitcher or dispenser of tea, lemonade, or a cocktail to share. You can decorate as much or as little as you want. For small and large gatherings alike, floral arrangements or candles are beautiful and ambient, especially when paired with some of our classically designed serving dishes and festive napkins.
Games and Entertainment
While your best anecdotes will probably carry the conversation well into the evening, you may want to have a backup plan, just in case. This is especially true if there are kids or a gathering of people who may not know each other as well. Lawn games or simple card games can be great ice breakers for your guests to get to know one another and you may get to know your best friends even better as well. Since we know your evening will last until after dark, consider outdoor lighting. Some of our umbrellas have lighting options built in and candles can provide a similar glow as tiki torches.
Gifts and More
While you may enjoy hosting your own backyard BBQ, we hope some of your family, friends, and coworkers reciprocate with an invitation to their own home. When they do, a hostess gift can be found on our showroom floor. A hand-poured candle in their favorite scent, a new set of gorgeous napkins to use for their next gathering, a decanter for their favorite drink, or a bottle of our very own tequila are just a few options. It is such a nice way to lean into the spirit of hospitality and can help your host and hostess feel thought of in a special way.
If you are ready to plan your next backyard BBQ, make Furniture Source International your first stop. From full patio seating to new table decor and accessories, we have you covered. Our team will gladly help you check every item off your list so you can enjoy your guests even sooner.
Share This Story, Choose Your Platform!