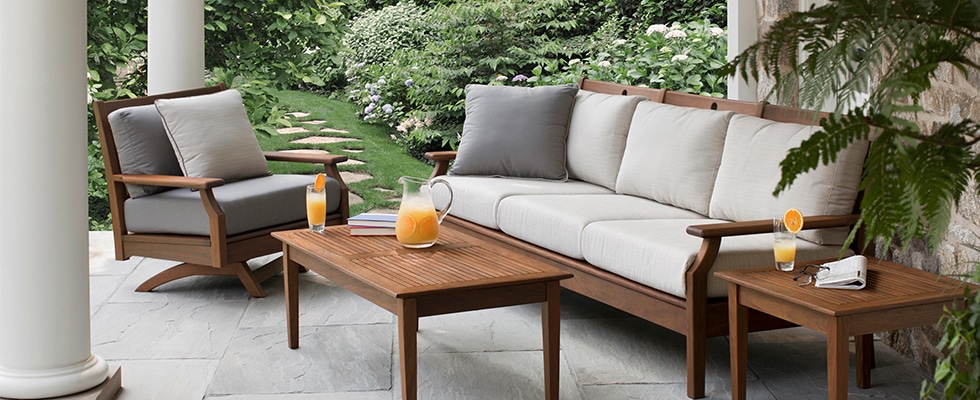 Brand Spotlight: Patio Furniture Brands
Being thoughtful about our furniture is vital to the team at Furniture Source International. We are deliberate and careful about every piece we design, create, and procure for our showroom floor. This thoughtfulness carries over to the brands we choose to partner with. To complete our showroom floor and offer anything a family may need to fill their home, inside and out, we had to look beyond our company's abilities and work with other groups like ours, especially when looking at the pieces you use on your patios, decks, and lawns. The brands we carry are brands we believe in and are proud to showcase.
When enjoying your time outside, whether having a meal with loved ones or enjoying time in the pool, you may need a little extra shade from the sun during different parts of the day. The umbrellas made by Treasure Gardens are not only functional but are beautiful pieces for your home. The rich colors of the material can enhance your outdoor space with a number of different choices and designs. Every umbrella is well made, with frames of either steel or wood, depending on your choice, and movement to adjust is possible as the sun moves through the sky or you move about your space. When the sun goes down, some of the umbrellas remain functional with lighting built in to help light up your evening as well.
Tables, chairs, and cushions provide your outdoor space with the livability of indoor seating and dining. The Ebel brand provides several different choices, from wicker and woven designs to wood frame furniture, each line provides something different for your home. Choices are available in some of their pieces for movement and they have a variety of selections in different heights and styles. The cushions have just as large of a variety of selections for you to custom pick patterns and colors to match your outdoor space.
Aluminum may not be the first material you think of when choosing patio furniture, but one look at Hanamint's pieces and you will wonder why you considered anything else. From scroll work to woven design, the furniture they build is beautiful, functional, and quality. Tables, chairs, lounge pieces, and more can be mixed and matched for your outdoor space and cushions added to make your lounging even more comfortable.
This multigenerational family of furniture builders is thoughtful about every piece they make, whether using metal alloys, steel, or when working with the fabrics of their cushions. Many of their pieces are refined by hand to make sure the detailing is perfect before putting it on the market. From fire pits to swivel rocking chairs, and from love seats to tables, you're sure to find something to fill out or completely deck out your outdoor space.
Comfortable, beautiful, and easy to maintain – all words you want to describe your outdoor furniture. With Breezesta, you can add an additional word to describe the pieces – eco-friendly. Made from poly lumber from recycled milk jugs and similar plastics, these chairs and tables stand out in any space. Their pieces are durable and will last, allowing for memories, fun, and relaxing to take place for years to come.
To come see these amazing brands and to hear more about their stories, visit our showroom, today. By taking time to see each unique line and consider the qualities they may bring to your home, you can make the perfect choice for your outdoor space. Our Furniture Source International team will proudly show off these brands to you.
Share This Story, Choose Your Platform!