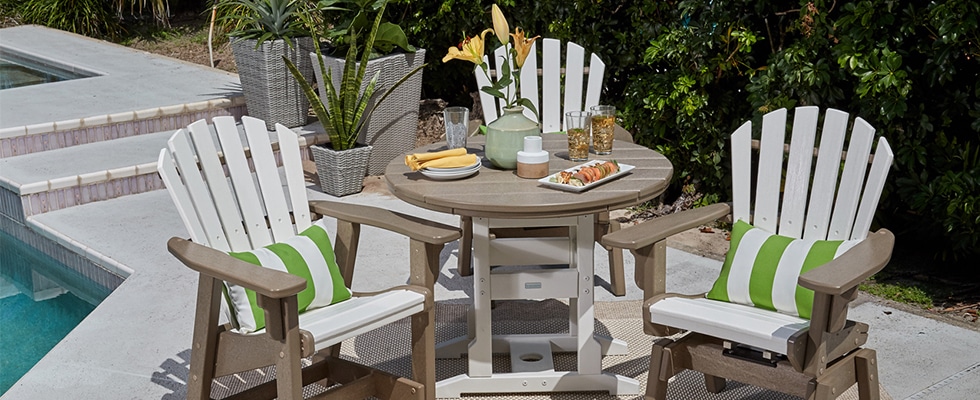 Get Your Backyard Ready for Warm Weather
We find ourselves torn between time indoors sitting on our favorite Furniture Source International couches and chairs, reading books recently plucked from a handcrafted bookshelf and enjoying the great outdoors, at least in our own backyards around a fire pit with loved ones. The truth is, our Furniture Source International family loves being comfortable, well served by the items we place in our homes, including those outdoor spaces, and having a place to gather with those we care about. An added benefit to warmer weather is more time spent outside in our very own backyards.
Outdoor Accommodations
The most important aspect of getting your backyard ready for warmer weather is to consider how you will ideally be using the space. Someone who is spending a larger amount of time gardening then relaxing after a long day may want flexible seating options with lots of storage for all their tools and gardening equipment. Someone who has a pool and sees parties headed their way soon may want to consider umbrellas, lounge seating for sunbathing, and a place to put snacks and beverages. Someone else may need a larger dining space to complement their outdoor kitchen and cooking skills. Furniture Source International has a number of options no matter what your outdoor needs are. We also love to hide little details into the pieces we design and procure, to make them even more functional, like umbrellas with lighting to double up once the sun starts to set and storage with adjustable shelving in the design to change with your needs.
Patio Furniture
In regard to furniture for your patio, there is a good deal to think about when choosing pieces that are right for you. Not only will you want to consider the space you have available and your overall needs, but you will want to think about style and color as you choose. Many of the patio lines we sell are available in multiple finishes and colors to help you find exactly what you want. Different pieces are also available in a number of materials, anything from iron to eco-friendly, poly-lumber made from recycled milk jugs. While your patio furniture may be outside, you don't necessarily want it to be dirty, so finding items that are easy to clean, care for, and are mold and mildew resistant are high on our priority list.
Other Considerations
Your outdoor space should be functional to meet your needs, but you shouldn't stop there. Outdoor time is usually about enjoyment, so adding a few touches to make sure you are fully delighting in the space is just as important. Selecting a few pillows to tuck behind tired backs can bring extra color and comfort to your outdoor space. Having a designated tray for carrying out your favorite beverages to guests or those working hard in the backyard can make your space feel extra special, too. Nestled away in a storage space could be some of our hand poured candles for long nights visiting outdoors. For those who need an extra touch in their favorite beverage, our Puro Verde Organic tequila is perfect for adults ready to celebrate.
To see some of the ways we can help you get your outdoor space ready for warmer weather, come see us today. While not every piece is meant for your backyard, we have entire rooms filled with possibility. Our Furniture Source International team is ready to help you.
Share This Story, Choose Your Platform!